Signature Collection Photo Books
STEP ONE: CHOOSE YOUR IMAGES
First, we'll have you choose your favorite images from your day.
How to favorite:
1. Log in to your online gallery
2. Click on the heart that appears when you hover over your favorite images.
3. Check the box to send to photographer.
4. Click the share button.
Images will automatically be sent to YM Photography.
Design Suggestion: We suggest choosing no more than 30 images with the understanding that not all images will be used in your book. If you are more on the minimalist side of design, choose 15 of your favorite images.
STEP TWO: SELECT COVER
Photo Book Covers in three options, Soft Cover with Image, Bonded Leather or Linen.
OPTION ONE: HARD COVER WITH IMAGE
OPTION TWO: BONDED LEATHER

(black, espresso, gray, white)
Our bonded leather line features strands of leather that have been bonded together. Please note, due to the production process of leathers, color tone may vary slightly.
OPTION THREE: LINEN
(tusk, taupe, sand, tundra)
Our linen options provide a classic elegant feel to your wedding book.
STEP THREE: CHOOSE YOUR ADD-ONS
We are pleased to offer you a variety of add-ons to create your perfect book design.
*Add-ons are available at an additional fee and are not included in the photo book price.
Foil Stamping for Bonded Leather (+ $25)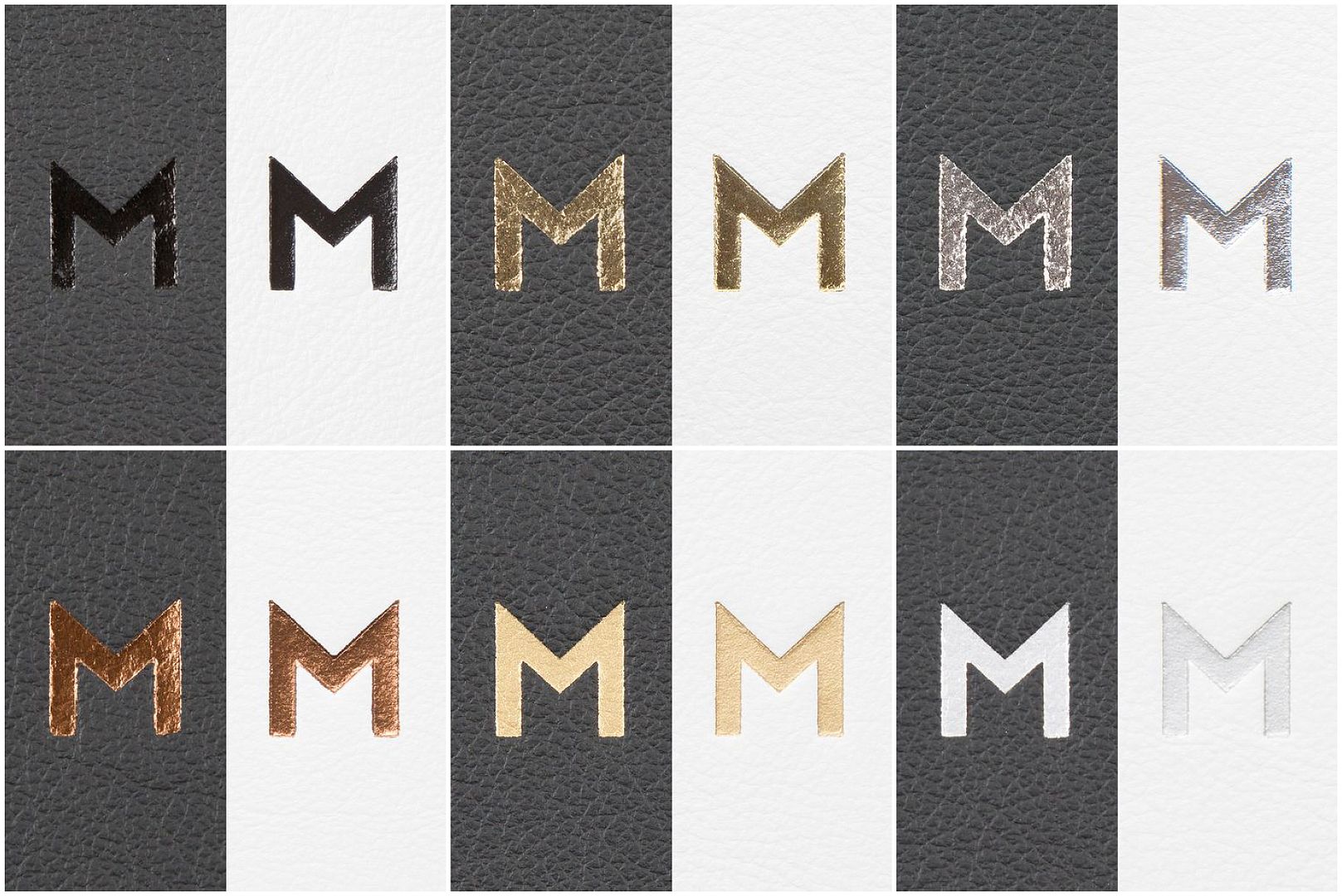 (top row: black, gold, silver  bottom row: copper, matte gold, matte silver)
Add foil stamping in Black, Copper, Gold, Matte Gold, Granite, Silver or Matte Silver. Choose from Alana Pro or Garage Gothic font. Up to three lines of text can be stamped on the cover in the lower center or lower right corner of the front cover (Bonded Leather only).
Debossing for Bonded Leather or Linen Covers (+ $50)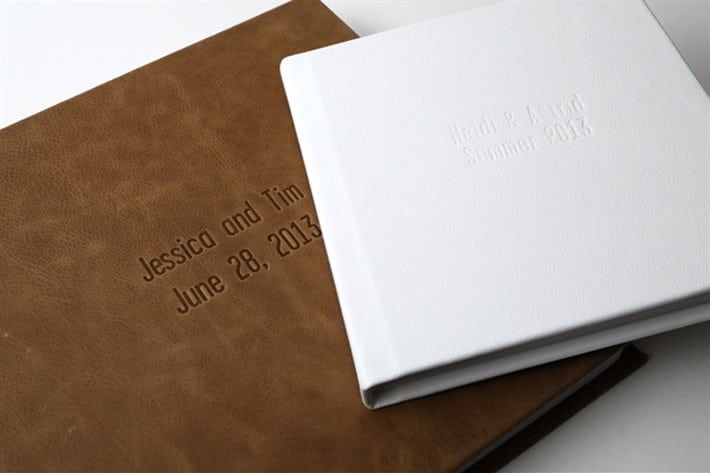 Choose a sentimental title and add a date to the front center of your cover with up to three lines of text. Select Dessau Pro or Garage Gothic font, in Blind (no color as pictured), Black, Copper, Gold, Matte Gold, Silver or Matte Silver. (Bonded Leather and Linen only)
STEP FOUR: EMAIL YOUR SELECTIONS
Please include the following:
Full Name
Email Address for proofing site
Album Size (and if you would like to upgrade):>
Mailing Address:
Cover Choice:
Do you want debossing or foil stamping ($25 charge)?
If yes:
Desired Font:
Desired Color:
Desired Text (two lines):
Character Limits (per line) for Debossing/Foil Stamping:
5×5 – 6 Characters, 6×9 – 9 Characters, 8×8 – 15 Characters, 10×10 – 19 Characters, 12×12 – 25 Characters
Duplicate Copy/Upgrade Fee:
5×5 Photo Book $100
6×9 Photo Book $125
8×8 Photo Book $150
10×10 Photo Book $175
12×12 Photo Book $200
**Upgrade fee is the difference between previous size cost and desired size cost**
PHOTO BOOK POLICIES
Initial design proof is delivered within 3 weeks of receipt of photo selections from client.
Although typically provided in less time, book edits are turned around within 2 weeks maximum. YM Photography will provide one book revision and one review. Any changes may be made with the initial revision. Any revisions made during review will incur a $25 per spread fee.
All revision request must be clearly written in the space provided for on each page on the proofing website. No revisions will be made if feedback is via email, phone or text.
All photos selected may not be included in order to create a cohesive design.
Ordering will not take place until Client has approved every page through Photographer's Proofing site.
Book Design is a client-dependent time process so timelines provided are the maximum times we have seen in our experience.
All product ordering is suspended from two days prior to Thanksgiving until five days after the New Year.